Hi guys,

We have been to the Isle of Sky last week and had a blast! We stayed in Scotland for a week, and due to the huge amount of photos we took, we decided to make two blog posts from our trip.This first post is from our first three days, Edinburgh Airport-Glasgow-Uig (Isle of Skye).
We arrived late in Edinburgh and travelled to Glasgow where we stayed overnight before taking the 8 hour bus journey up to Uig on the Isle of Skye. We always talk about travelling light (because we don't have a car), but always end up with about 10-15 kg of cameras, lenses and related equipment between us and an additional 15 kg each of clothes to tackle any weather for weeks (must be the Norwegian upbringing – always bring enough clothes). Despite our late arrival we managed to taste our way through all the cocktails at the Hummingbird before preparing for our long ride to the Isle of Skye (which in our case means buying crisps and photo magazines).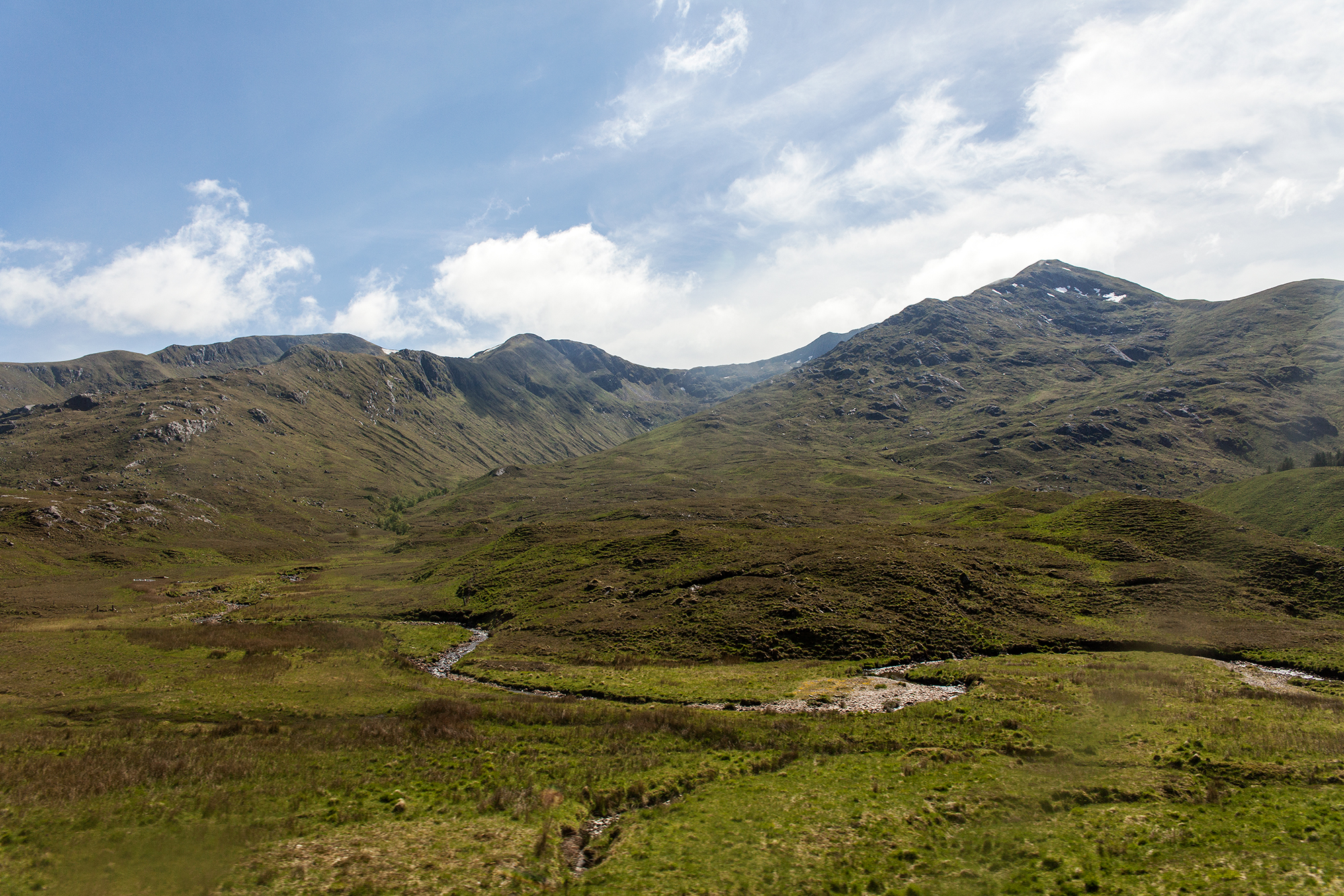 The bus journey from Glasgow to Uig was 8 hours long and incredibly picturesque. The journey starts in Glasgow and continues up the west side of Loch Lomond and Trossachs national park, before it continues over Bridge of Orchy and then the Glencoe valley. We hit massive traffic (!) between Ballachulish and Fort William due to roadworks and as a result, we only had a wee break in Fort William before continuing in an almost empty bus up Loch Lochy. The bus then drives west at Invergarry and west again at Loch Cluanie following the road until it reaches Kyle of Lochalsh. We had another wee break before crossing the bridge to Skye. It took another 1.5 hours before we reached Uig just 5 minutes before the brewery shop closed (thank God we made it).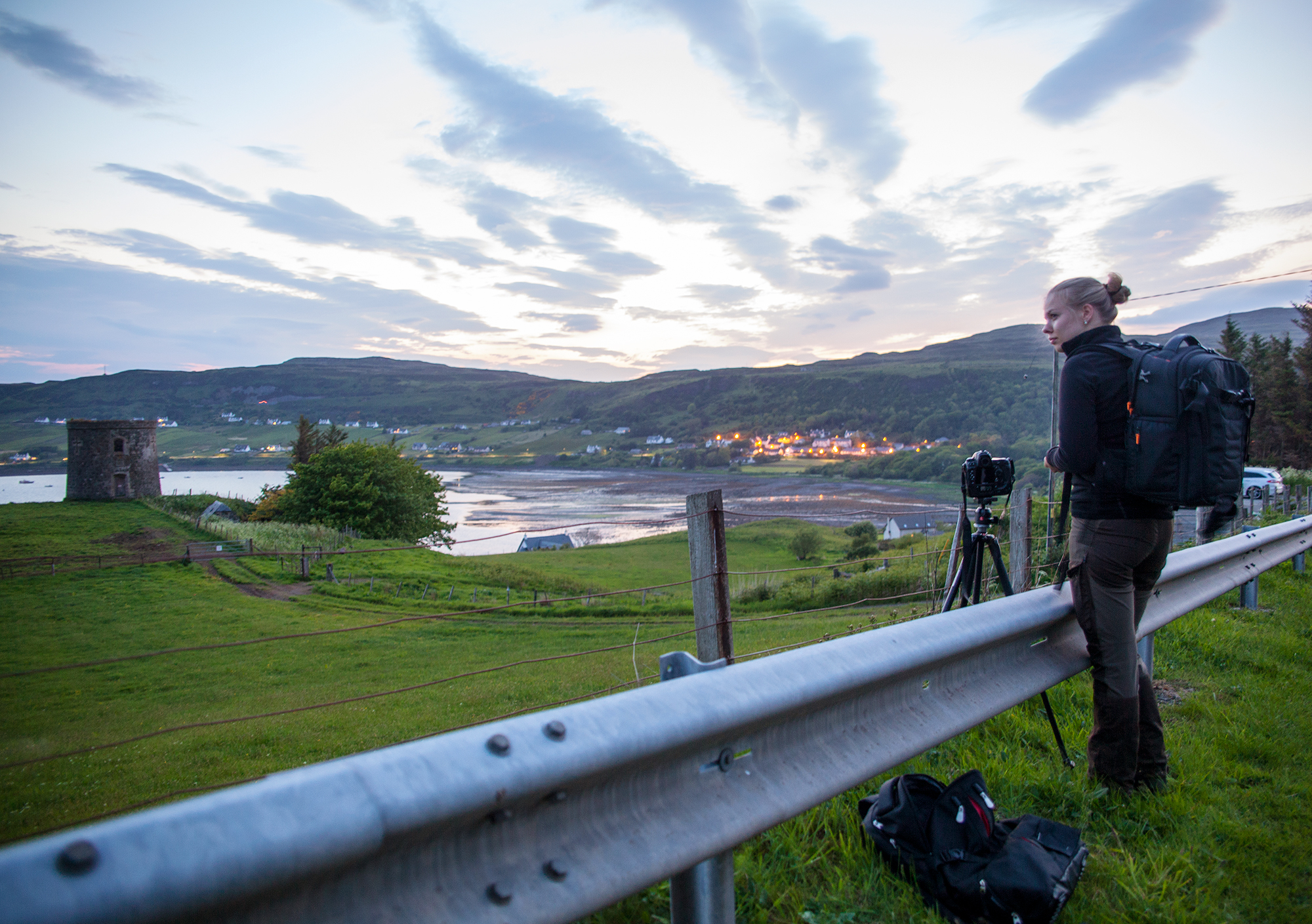 Uig is a small place with about 200-300 inhabitants, but as the days passed, we realised it was one of the largest places around. The name 'Uig' comes from the Norse word 'vik' (of course) and means bay. We pondered about how 'Vik' became 'Uig', and applied all dialects we could think of. Either the local dialect has morphed 'Vik' into 'Uig' over the years, or it was mispronounced, misheard or misspelled when some civil servant noted down the name of the place a long time ago. Who knows.

Uig has the only brewery on Skye, a few cafes, two restaurants and two small shops (neither of which had sunscreen, but that is a painful story for the next post). Many ferries leave daily to the Outer Hebrides, so the place can get lively at times. There are a few places to stay in Uig, including numerous B&B, a hotel and a caravan site. We stayed at the latter in a rented stationary caravan home. Neither of us have ever been inside a caravan before, so this was rather exciting for us. As the caravan was a bit worn and a bit 80s, we automatically took on new white trash roles as import Thai wife and inbred Norwegian wife and cooked dinner without using a single vegetable (except from some wild garlic we found).

Our first evening on Skye was spent at the Uig Hotel, which is located on the hill, approximately 30 minutes walk away from the ferry terminal. There was live music and we tried the Talisker whiskey made on Skye watching the sun set over Uig Tower, before going back to our new caravan home.
According to the internet there is one place you must see when in Uig, and that is the Fairy Glen. This Glen is an easy 1-1.5 hour walk from the ferry terminal, though most people just drive up there to photograph the rocky tower, known as Castle Ewen and then drive back down again. However, on a sunny day this road is worth hiking to see all the beautiful details of this intriguing terrain. There are lots of sheep, cattle, rabbits and birds of prey you can see on the way up from the road to the Fairy Glen that you may miss (well, the sheep are impossible to miss) if you drive. Regardless of how you get there, it is a place to see and a wonderful spot for a picnic.
We then spent our last evening in Uig drinking all the different types of Isle of Skye beer there is on the stairs of our caravan home and eating more obscure food before preparing for our next days in Digg.
Thanks for reading,

S & I